Terms of Service
You are commissioning me for my art. I will not conform to drawing in another artist style. Please review my past works to determine if I am the artist for you.

I begin work as soon as possible within my availability.

My current turnaround time 2-4 weeks after payment.

Commissions are not exclusively completed in the order of work queue.

You will receive one or multiple sketches of your commission for approval via the Email you provided in the commission form. Once the sketch is approved after any revisions, a invoice for payment will be issued towards the same email. No further work will be done until payment is received.

A second WIP will be issued for review for Flat and shaded commissions.

I primarily communicate through Email. Discord and Twitter messages are also an acceptable means of communication. If you wish to speak through these channels instead of email, please make note within your form submission or in response to an email notification.

When your Commission is reaching completion, you will receive another WIP for final edits and/or adjustments.

Any significant corrections outside of artist error will be charged.

At any point, you the commissioner may request for status updates.

I am allowed to refuse a commission if I feel I will not be able to produce the work in question accurately, due to its content, schedule, or work queue.

OC(s) that do not belong to you the commissioner, I am to assume you have permission from the owner or are gifting the art. I will not be held responsible for any conflicts of interest.

You, the commissioner are responsible in providing me accurate/current character references. If you do not have a character sheet, provide your best images that visually portray said character(s).

Detailed descriptions are acceptable if no character reference is available.

You must be +21 of age to commission NSFW content.

If you wish to be anonymous in the art description, please say so in the commission form when prompted for "username".

Commissioners that wish to have their drawing private will be charged an additional $15. A private commission will never be streamed nor will it be uploaded to any art or social media account.

My work is entirely digital. No physical goods will be shipped.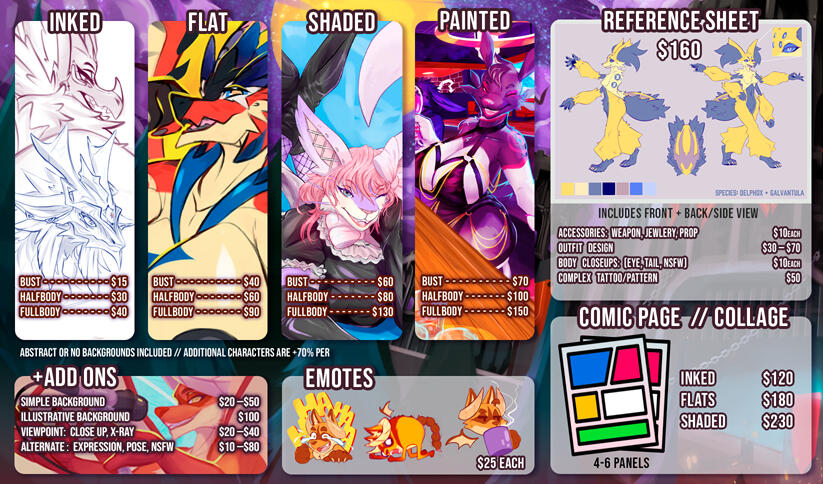 Terms of Use
Once complete, you will receive both an HD copy and a SD copy. All files will be in png by default.

You may upload the SD copy to your own galleries and/or social media accounts as long as I, the artist am credited.

You may use your commission for personal use (ie: phone or desktop backgrounds, user icon, profile banner image, printed poster, etc.) as long as no profit is gained.

You may not alter the original colors and/or line-art. Sketches are an exception.

You may not remove my signature/watermark without given permission.

I, the artist, do not claim rights of your character(s) or any licensed properties.

I, the artist, claim rights to the artwork produced.

I ,the artist, have the right to repurpose any artwork that is produced. This includes: sketches, cancelled commissions, and all finished works.

I, the artist, reserve the right to upload your commission on any accounts including subscription services such like Patreon, SubscribeStar, etc.

Commissions are not to be considered subscription service exclusives and will be available to the public.

If artwork is for your own subscription based service, I hold the right to submit to my own but will adhere to any release schedule and refrain from public posting. Include public release date in form description.
Will Draw
Human / Humanoid

Furry (feral / anthro)

Monsters

Any gender

Any Species

Fan Art

SFW & NSFW

Environments
Won't Draw
Macabre / Gore

Vore

Micro / Macro

Underaged characters depicted in NSFW content.
General Prices
| Tiers | Flat | Shaded | Painted |
| --- | --- | --- | --- |
| Bust | $30 | $40 | $60 |
| Half Body | $40 | $50 | $70 |
| Full Body | $50 | $70 | $90 |
| Reference Sheet | $70 | $100 | N/A |
Additional characters will add 60% of Tier Price per character.
| Extras | Cost |
| --- | --- |
| Detailed Background | +$20 minimum |
| Alternate(s) | +$10 per |
| Private Commission | +$15 |
Accepted Payment Methods
icons by Freepik
By paying the invoice, you accept all terms and conditions.

Prices are in USD and taxed.

Payment plans are offered to commissions above $150.

A payment must be received with in 72hrs of invoice.

You may cancel your commission at any stage but will only receive a full refund if work has not gone past the sketching stage. Refunds will be issued thru the payment method used in this transaction.

Payment is non refundable once commission is completed.
Quick Examples